RB Leipzig's Oliver Burke has said that he was gutted with the fact that he was not played against Slovakia after he played in the World Cup qualifier against Lithuania only a few days earlier.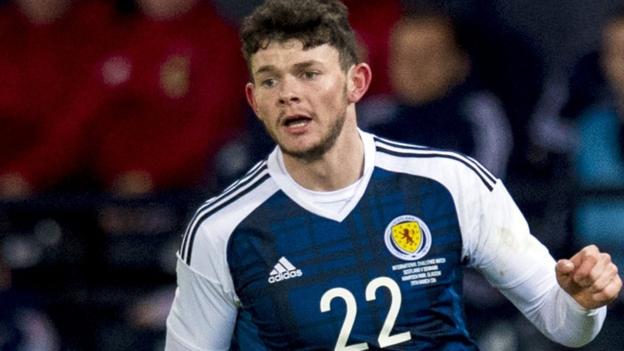 The 19-year old was baffled as he thought his pace and power gave the team an advantage but Coach Gordon Strachan though otherwise.
He took to his Twitter handle to post "silent man" but quickly deleted the tweet. The youngster worth £13 million said he was disappointed with the decision of the coach.
"Of course, it was disappointing to be dropped for the Slovakia game. But I'm just really happy to be involved with Scotland. I'm still young and to be with the first team at international level is a great feeling.
"It's a brilliant achievement for myself. I'll hopefully just keep showing what I'm capable of and, when I get the call – or if I get the call – I'll do my very best for the team," the young player said. Tickets for Scotland's international home matches are available through this site, whilst away matches are done by a ballot system on the SFA website.
He added that it was not "nice" to miss the squad but that he would stick with the manager's decision. He said he hopes to make up for it when he gets an opportunity to play.
Burke has been facing a lot of recent. From German lesson, to moving his family to Germany and playing off the bench for Leipzig, it has not been an easy ride for the young man. Leipzig are chasing Bayern Munich as Ralph Hasenhuttl's men think they can snatch the crown this year.
Burke admitted that the move has been a difficult one but added that he remains focused on thriving.
"I'm learning everyday here. From a football point of view, I want video analysis every day. Even on my phone, I'm constantly looking where I can improve my game. I feel I'm getting better," he said.