Slovakia midfielder Juraj Kucka was a major culprit as Watford stayed in the relegation zone for at least one more week thanks to their 2-0 loss at Liverpool. The Slovakia international had the chance to give Watford the lead some seconds before Liverpool took the lead at the other end.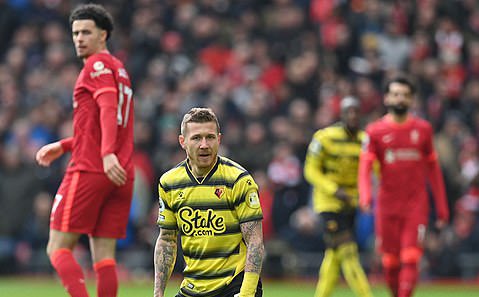 Kucka had his shot saved by Brazilian international Alisson Becker in the Liverpool goal beforein-form Jota scored the opener for the Reds at the other end in their quest for the Premier League title.
The objective for Liverpool and Watford was different ahead of their latest league meeting on Saturday lunchtime. Hosts Liverpool were going for the Premier League title in a two-way fight with Manchester City, while Watford need the points to stay in the division as they started last weekend with a three-point deficit from Everton who are in the last safe spot.
Watford trailed 1-0 Liverpool at the end of the first half as they rued the miss from Slovakia international Kucka. They had the chance to score the equaliser at the start of the second half with Joao Pedro firing wide when he could have hit the target with his shot. The Liverpool fans were edgy until the game was made safe thanks to the daft error from Slovakia player Kucka. He hauled down Jota in the Watford box during a corner kick and a spot kick was awarded via VAR with substitute Fabinho stepping up to score the penalty and seal a 2-0 victory for Liverpool.
Liverpool secured the Premier League summit from Manchester City as a result of the win over the Hornets, but it was just for a few hours with the holders returning to the top thanks to the 2-0 away win over relegation-threatened Burnley.
Watford are still fortunate to be three points off the safe spot after 10-man Everton lost 2-1 at West Ham United a day after their game against Liverpool.